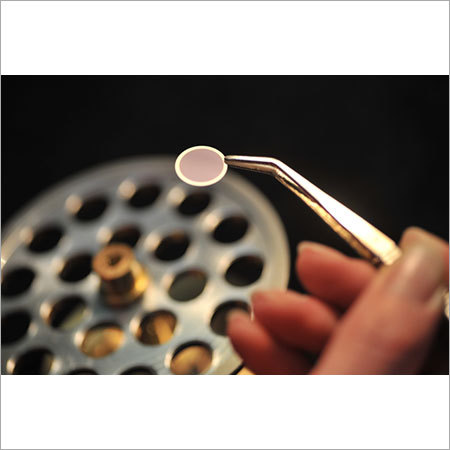 Mica Retardation Plate
Product Description
Mica Retardation Plate
Being a quality concerned company we are also known as one of the major manufacturer, supplier and exporter of Mica Retardation Plate in a wide range to our clients. Our products are manufacture by the combination of A one quality raw material, with the exceed description our updated machinery produces high quality component and by also at the time of manufacturing we are takes care of hygiene and industrial waste so that it can not pollute the environment. Using state-of-the-art interferometers and optical profile we test our every Mica Retardation Plate and have superlative functioning as well as sturdy coating.
Presently, our production team focused on manufacturing mica retardation plates in various varieties:

Type MA Mica Wave plate zero order is cemented between two cover glasses.For the visible spectral use with the range of (400 mm to 700 mm). With the reference wavelength of 550 mm (+/-10%). Parallelism < 3'.Retardation tolerance lambda/20 at 20°C.

In between two cover glasses there are MB Mica Wave plate type cemented zero order.Applicable for spectral range of 400 mm to 2500 mm (specify wavelength).Parallelism < 3'.Retardation tolerance lambda/50 at 20°C.
Type MC Mica Wave plate zero order without cover glasses.Used for spectral range of 350 mm to 3500 mm (specify
wavelength). Retardation allowance lambda/50 at 20°C.Direct AR/AR coating on mica available.
Specifications (standard):

Statistics: Mica and BK7 glass
Genetic Wavefront: 1 lambda at 633nm
Base Quality: 60-40 scratch – dig
Diameter Allowance: +0/ -0,25 mm
Clear Aperture with Central dia of > 85 %.
AR Coating / Mounts: Available as per the demands
Type ML, like Type MB but Similarity <10": Accessible as per the requirements.

Special (like standard but):

Base Classification: 40-20 scratch-dig
Retardation Tolerance: lambda/100 to 200 at 20° C.
Note:

These MA types plates with metric diameters are easily provided by us.
They are sold exclusively after superior written statement of cost and
time of delivery by S & R Optic.
Contact Us
Ludwig-Rinn-Str.14, Giessen, Hessen, D-35452, Germany
Phone :49-641-9607618